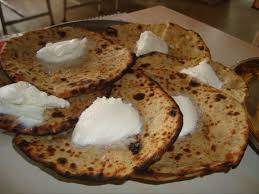 Mention of 'Murthal' conjures up images of delicious 'Parathas, Butter and Curd/Lassi' combo. From the raw material of basic wheat flour to the prompt serving of finished products in the form of mouth watering parathas, one can learn the basics of Value Addition in Business !! 
I have been travelling on GT Karnal Road for decades now. No doubt that food on the entire highway from Delhi towards Haryana/Punjab is really good.
There used to be days of the glory of Puran Singh Dhaba and its clones in Ambala. With changes on the highway and flyovers, they somehow lost out.
The 'Murthal dhabas', near Sonepat, also faced this challenge of a new flyover, making them inaccessible. But they relocated a little ahead and continued to do roaring business ….. their Strategic Foresight enabling them to come out of Adversity even Stronger !!
While there are many restaurants and motels on the entire highway that side, the cluster of Murthal dhabas continues to hold a special place for travellers on that stretch.
Market Leaders Gulshan, Sukhdev, Ahuja mastered the core competence of 'wheat flour to the prompt serving of delicious parathas' and followed it up with Justplainandsimple™ Specific, Methodical and Consistent Processes !!
And surprisingly, the whole cluster seems to be basking in the glory of these Market Leaders who have occupied a Clear, Consistent and Unique Brand position.
Prompt Serving of Quality Parathas.
This is the flagship on which the business is built. However, for the highway traveller, they offer a whole range of uniformly good quality vegetarian fare too while they stop over to indulge their taste buds.
And as the popularity increased, these dhabas have scaled up to match their capacity with the flow of customers, retaining the base ambience and quality and service levels consistently, firing their Economic Engine with Profit/table/hour.
With a clear Sense of Direction and Discipline as a business, there are a whole lot of MBA lessons (Murthal Business Administration) to be learnt ….. specially the focus on 'Resource Leverage for Operational Excellence' !!
1,568 total views, 1 views today