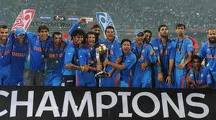 (Views expressed in this post are entirely my own)
The picture on the left is after a World Cup Final Win !! Noticeable by his absence, is the captain, MS Dhoni. And this is a pattern that gets repeated so often. He could have stolen the limelight at innumerable occasions that came up for him, if he was an egoist.
But some people say he is an egoist;
And they are honourable men….
He hath brought many laurels to Indian cricket,
Which is definitely at an elevated level now than then …..
Yet, after Dhoni's recent decision to retire from test cricket, certain sections of media, society and sports criticized him for his ego. And these are 'honourable men' !!
With the best of leaders,
When the work is done,
The project completed,
The people all say
"We did it ourselves"
(Tao, 17)
As a student of Leadership, I follow the continuous debate on MS Dhoni with great interest. While theories on Leadership abound, with a personality like Dhoni, the discussion becomes even more intriguing and exciting. A Justplainandsimple™ patented view on leadership is :
Leadership is like an exhaust fan; creating An Energy Flow quietly on the sideTM
This, I also found to be quite an apt description of our Captain Cool's leadership style.
The recent two test losses (and many previous wins) in Australia have brought in a lot of flak for him. At the same time raised more debates ….. of the type 'Is Dhoni more successful than Saurav ?' Can there be a comparison with Gavaskar and Kapil of the 80s ? ….. and so on ….. While some of these may not be valid, as eras and circumstances have changed a lot, others may also be of a speculative nature.
But one thing is certain ….. Dhoni definitely HAS built further on the successes of earlier giants. Also, when he took over as captain the team had really strong players like Sachin, Sehwag, Dravid, Laxman, Harbhajan et al. And to sustain and build further on existing strengths is surely VERY VERY CREDITABLE !! Over the shoulders of giants …..
A study on successful Indian CEOs, conducted some years back, highlighted key characteristics exhibited by these people in various business situations. It is quite relevant in this discussion due to commonality of Indian mindsets, social contexts, ecosystem etc. ….. and topicality
I bring up the characteristics again at this point in time.
The ones that I want to highlight, are those characteristics that were displayed by business leaders in 'Improving a Business' situations. I list these below for comparisons with our hero of the day :
M : Maturity : Emotional Wisdom and Intelligence to respond to others and embody the aspirations of the organization. Captain Cool is calm and composed in both praise and criticism, describing these as being ephemeral. In a country where emotions run extreme, he maintained the same equanimity after World Cup wins and defeats in England and Australia.
S : Transcending Self & Inner Strength : Courageous dedication to the super-ordinate goals; doing what is right and what will make Indian cricket great. We've seen him exhibiting 'edge' ….. an ability to face reality and to champion tough decisions.
D : Driving Change : Leading the organization to implement and embed sustainable change. Enough evidence in decisions related to strategy and people.
H : High Energy Team Leadership : Inspiring and protecting the team, enabling excellent team performance. His inspiration to the team and ability to lead by example. Virat Kohli, Suresh Raina, R Ashwin, Bhuvneswar Kumar, Ravindra Jadeja, Cheteswar Pujara and Praveen Kumar all flowered under him.
O : Ownership and Empowerment with Accountability : Delegating authority to allow others to act with purpose and accountability. In extremely testing circumstances, Dhoni has come up with brilliant performances himself and has also empowered the team and youngsters with enough confidence and a free hand.
N : Networking & Organisational Awareness : Reaching out to an extensive network for ideas and problem-solving; understanding how things get decided and done in a particular organization. He sure has found his way around very gracefully and effectively.
I : Stakeholder Influence : Using customized strategies to influence specific stakeholders. In his own way, with poise and equanimity, we see his influence creating magic.
A point to keep in mind though, is that leaders are human beings. So if Dhoni does have a bad patch, it is quite normal.   Leaders can slip, leaders can make mistakes, leaders have bad days, leaders change their minds, leaders are you and me. Good leaders are ordinary people who want to get better than ordinary results. They are not happy with getting by because they know that the world is constantly changing, evolving and what worked yesterday might not work today.
Leaders are on an adventure with an uncertain future, more so in today's VUCA world. Leaders are not better than followers, leaders are not gods, gurus or prophets. We shouldn't put them on a pedestal and worship them, for two reasons ….. (1) they will forget what it's like in the real world and a leader living in yesterday's world is a train wreck waiting to happen (2) it stops us, the rest of us, from trusting ourselves and doing the hard work .
In short we all need to be ordinary people who work together to get better than ordinary results ….. like this boy from Ranchi has demonstrated !!
The wise leader knows When enough is enough.
Stretch a bow too far And it will snap.
Sharpen a knife too much And its edge will not last.
Fill your house with gold and jade, A
nd you cannot defend it.
Exalting in your success Invites a certain fall.
When your work is done, it is time to move on.
(Tao, 9)
1,861 total views, 1 views today