Of all the Values that are important in the play of Strategy, Courage ranks extremely high. It is the ability to take a stand and to have the strength to do something in the face of adversity, challenge and pain.

In the run up to Strategy, even before a Strategy is put in place, one has to have strong conviction in an idea, thought, mission, vision and/or intention. Needless to say, due diligence must be done in evaluating all scenarios and alternatives.
But once all deliberations are done and a course of action is determined to be wise, never discredit your judgement. Stand squarely behind your strategy and decision.
Course correction, basis midway changes, however, is a wise thing to do. Flexibility, not rigidity, is a characteristic of the Courageous. The virtue of honesty, truthfulness and a courageous recognition of reality combine into one of the most important virtues ….. Integrity.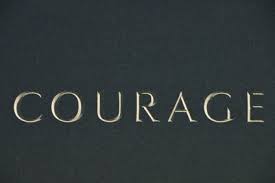 There will be people who misunderstand intentions and actions and condemn, but if, as per your judgement and wholistic assessment, you are doing 'The Right Thing' and 'The Right Way', there is nothing to fear.
Take a stand !!
1,772 total views, 2 views today